Hello there!
How are you all doing?
Plum flowers are in bloom and ...Yes, hay fever season is here.
I have a hay fever and have started suffering from sneezing and itchy eyes.
I strongly hope that my medication will work better this spring...
Well, I'm excited about the school party that we are going to have soon on March 2, at a Izakaya restaurant! Yay!
A little busy preparing for it, creating games, making paper cards and so on, hoping all the participants will have a good time together, eating & drinking and playing games!
We will play some games and a Loser team will do some penalty game, so I'll post some photos from that after the party!
Please wait for it!
See you next time(^^)/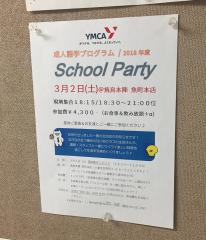 2019/02/21 05:56