Hi there!
Today, I'm going to share some of my "numbers for 2020" with you.
I have set up some numbers for this year 2020.
One of them is "twelve" movies ( or more) in total I'll see this year!
I already saw two movies.
One is Frozen 2. I saw it on January 1st. which is so famous that I don't need to explain about the movie, right? It was good!
And I saw Parasite, South Korean film, a black comedy thriller by Bong Joon-ho this week.
It was very interesting and some scenes from the movie are still staying in my head.
It's not the type of movie everyone can enjoy, so please check out its reviews before going to see it!
I recommend it very much, though.
I have more movies to see for this month on my list.
I think I will be able to achieve "twelve" this year no problem, yay!! ( Last year finished with eight.....)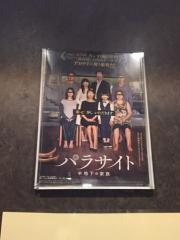 2020/01/23 05:55